Overcoming the Narcissist, Sociopath, Psychopath, and Other Domestic Abusers: The Comprehensive Handbook to Recognize, Remove, and Recover from Abuse
Author: Charlene D. Quint
The award-winning Overcoming the Narcissist, Sociopath, Psychopath, and Other Domestic Abusers (Redemption Press 2020) is a groundbreaking comprehensive handbook that contains everything a woman needs to know about how to recognize abuse, break free, and thrive. This definitive guide identifies abuse and abusers' tactics, describes the actions a victim must take to leave safely, and guides victims through the steps to find hope, healing, and a victorious life of peace and wholeness as the women they were designed to be.
Domestic abuse is the most prevalent and yet the most silenced and misunderstood pandemic of our time. One third of women at some point in their lives will experience rape, stalking, or serious physical abuse at the hands of an intimate partner, and nearly half will experience emotional and verbal abuse and coercive control. Yet churches are largely silent on the subject, and clergy often do not know what to do—or worse, support the abuser rather than the victim
Overcoming the Narcissist, Sociopath, Psychopath, and Other Domestic Abusers is an all-encompassing 576-page handbook designed to help women master the essential "3 Rs" of abuse: recognize abuse, remove themselves from the abusive relationship, and recover from the damage it causes to her mental, physical, financial, and spiritual well-being. The book also serves as a guide to educate and equip counselors, clergy, and congregation leaders in biblical best practices to address domestic abuse, support the victim, and hold abusers accountable. It further serves as an essential resource for every family law attorney, judge, and guardian ad litem.
It delves into the high correlation between narcissistic and antisocial personality disorders and abuse. It provides detailed tips for the legal, financial, emotional support, and safety plans a woman needs to escape. It guides women and their children through healing. For women of faith, the handbook digs deep into Scripture to bring spiritual healing for victims, and it provides biblical best practices for clergy on how to support victims while holding abusers accountable. With a approach, it educates, equips, and brings hope and healing to women escaping abuse, so they can live a victorious life of peace and wholeness.
Charlene Quint weaves together her experience, legal knowledge, counseling expertise, research, Scriptures, and stories of survivors to lead women out of abuse into freedom, provide hope and healing, and guide them to discover the amazing, fearless women that God designed them to be. A family law attorney who focuses her practice on helping women overcome domestic abuse, Quint is also a domestic abuse survivor herself and a Certified Domestic Violence Professional. She facilitates a number of support groups and Bible studies, speaks as an advocate, and conducts training and workshops for church leaders through AbuseCare.org, a faith-based organization that she founded to provide hope and healing to victims of abuse.
"When I was going through my journey, like all women going through abuse and hoping to break free, I wanted a comprehensive book to tell me everything I needed to know about abuse and abusers, how to get out safely, how to heal and restart my life, and how to live fearlessly and victoriously, the way God desires for us, after abuse," Quint says. "There was none. This is that book."
The book is a must-read for survivors of abuse as well as counselors, clergy, congregation leaders, lawyers, judges, guardians ad litem, medical professionals, and other professionals dedicated to helping others.
"Unlike many Christian and marriage books," Quint says, "this book calls domestic abuse what it is—evil. It doesn't try to keep a woman with someone who is wicked, and it digs deep into the Scriptures to see what God really says about divorce from an abuser and fleeing from evil. Regular marriage books and marriage counseling simply don't apply in cases of abuse."
If you, gentle reader, are in abuse or your safety is compromised, this book has a unique flip-side decoy cover designed to deflect attention from the subject matter of this book. Simply take the book jacket and turn to the reverse pink side with Inspiration for Women on the decoy cover so that the jacket is inside out.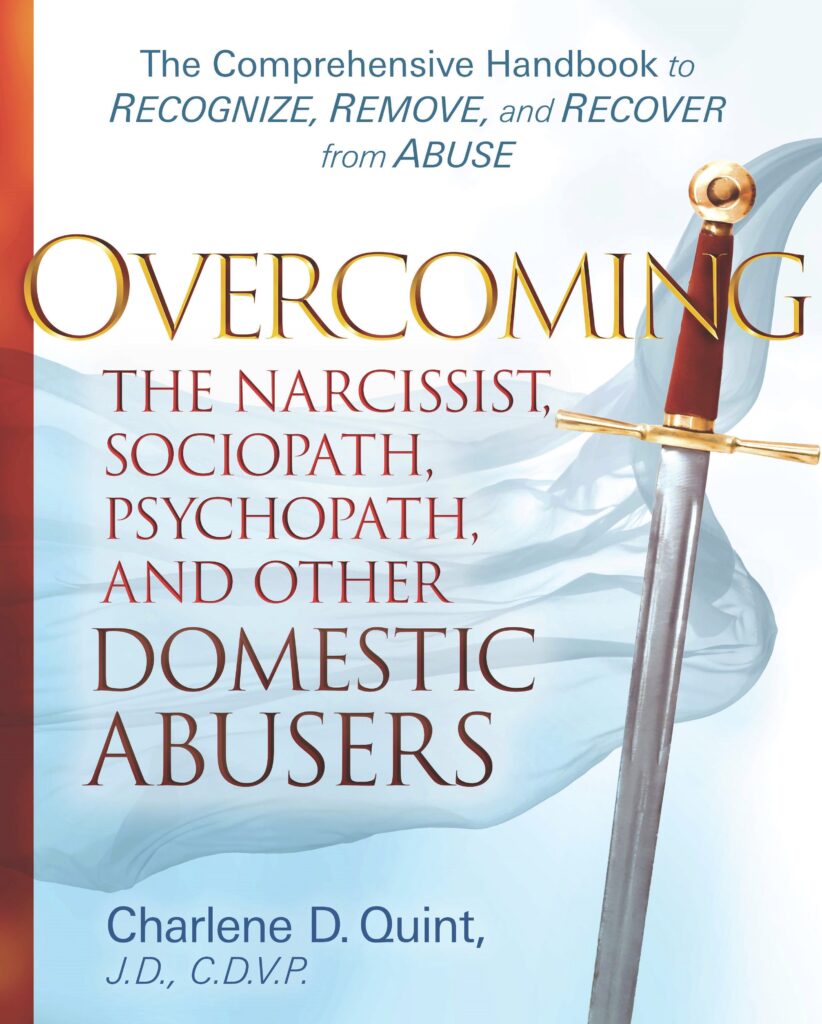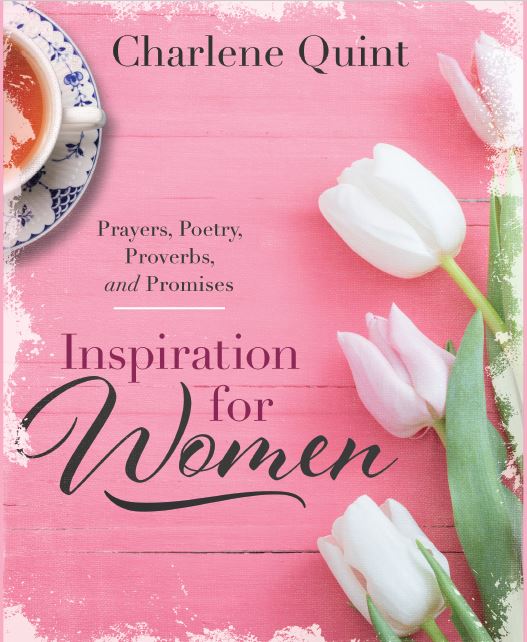 Overcoming the Narcissist, Sociopath, Psychopath, and Other Domestic Abusers is the winner of the following literary awards:
First Place Winner of the international Christian Literary Award
First Place Winner of the international Christian Indie Publishing Award
Third Place Winner of the international Selah Book Awards for Excellence in Christian Literacy
Bronze Medalist of the international Living Now Book Awards for Books for Better Living
Finalist in the international Independent Publishing ("IPPY") Book Awards
Charlene D. Quint, J.D.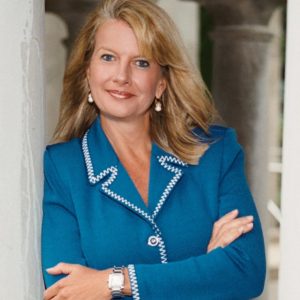 Charlene Quint is a family law attorney in the Chicago area who focuses her practice on helping women overcome domestic abuse. She wrote Overcoming the Narcissist, Sociopath, Psychopath, and Other Domestic Abusers to help victims of domestic abuse become the fearless victors that God designed them to be. She is the founder of AbuseCare.org, a nondenominational faith-based organization designed to provide hope and healing to women on their journey from victim to victorious and to educate and equip churches in caring for victims of domestic abuse. Quint is co-chair of the Partnership for a Safer Lake County, a network of organizations combating all forms of abuse. She is a Certified Domestic Violence Professional, an advocate for victims of abuse, a facilitator of multiple nation-wide support groups and Bible studies, and a domestic abuse survivor. She speaks publicly to raise awareness of domestic abuse and provides training for churches on how to address abuse in the church. Quint is the recipient of the Augustana College Humanitarian Award for her work helping domestic abuse survivors.
Charlene is the author of three inspirational books: Angels of Ebermannstadt (DeepRiver Books 2012), Blessings, Prayers and Heart Songs (DeepRiver Books 2014) and Overcoming the Narcissist, Sociopath, Psychopath, and Other Domestic Abusers; The Comprehensive Handbook to Recognize, Remove, and Recover from Abuse (Redemption Press 2020).
A Few of the Many Endorsements
"A must read! Charlene Quint has written a must-read for anyone experiencing domestic abuse. Finally, a handbook addressing all three stages of rescuing yourself, finding strength, and finding your new life. This handbook will help you go from victim to successful survivor!"
"In this one-stop all-inclusive book, Charlene Quint provides women in abuse a guide on how to identify abuse and abusers, get out safely, recover, and reclaim their lives. A must-read for all women in abuse or in its aftermath."
"This book provides a much-needed resource for women, particularly women of faith, who are seeking to escape domestic abuse. In one readable yet comprehensive book, Charlene Quint covers what every woman needs to know about identifying abuse, getting out safely, healing, and moving on with her life."
"This book is amazing. It's everything that a woman seeking to escape an abusive relationship will need to know. This is the one book to have when dealing with a domestic violence situation. Whether you are a counselor, medical professional, clergy, friend, family member, or target of the abuse, this is the one book that will help to clarify the situation and provide a roadmap to a better life. It instructs, educates, encourages, guides, and provides comfort and hope to women who find themselves in an abusive situation. It's a godsend."
"When you're trapped in an abusive relationship, it's like living in thick fog. Oftentimes you don't even recognize where you are and are unable to see a way out. This book helps change all of that and is truly unlike any other I've read on the topic. It first helps readers recognize and identify abuse and understand the thought processes of the abuser. It then goes on to provide practical information about safety planning, managing finances, finding legal assistance, and getting the emotional support essential to successfully getting through the journey of overcoming abuse.

"The specific, practical advice that Charlene gives in this book alone makes it the one guide to recognizing and escaping abuse that every woman who is concerned about their well-being should have. But it goes even further, discussing the spiritual and emotional implications of abuse and divorce. She gives readers strength by reminding us of the spiritual armor God has given all of us and dispelling some myths surrounding abuse and divorce in the church. Quint provides inspiration, hope, and healing to allow women not only to remove themselves from abusive situations successfully but to go on to live a life of joy, fulfillment, and recovery. It is a must-read for all women who know they need help and for those who are wondering if their relationship is healthy or safe. I am truly grateful to Charlene Quint for all she does to help women overcome abuse, and I am certain this book will help and change the lives of so many."
"There are a number of great books out there about the dynamics of domestic violence, but I've yet to read one that is more complete than this one. What makes this book different? It is more comprehensive than any book I've read on domestic violence. Charlene recognizes that people are complex, so in this book, she addresses the whole person (psychologically, physically, and spiritually). This book has the wisdom in it to change how advocates help people of faith. It has the depth to challenge the most seasoned expert in the field of domestic violence. It has the gentleness that beckons the reader into an immersive experience and the boldness to challenge existing structures of abuse advocacy. I'm thankful to know Charlene and to add this book to my list of incredible resources that I'm confident will inform and even reframe my advocacy efforts for the rest of my life."
"God never meant for his beloved daughters to be held in the prison of abuse, rather, He wants us to have a full, abundant life overflowing with love and joy."
"Domestic abuse is the most denied, silenced, and misunderstood issue facing the church and society today . . . We choose to believe myths, rather than facts, to make ourselves feel better about the scourge of the epidemic of domestic abuse among us."
"Every relationship with an abuser ends badly . . . very badly."
"Women who have had the courage to leave an abusive marriage will blossom and thrive when they remove themselves from abuse, make healing a priority, and focus on God and His purpose for their lives."
"When a marriage to an abuser comes to a crashing end, a woman often feels guilty, believing that, despite her Herculean efforts, she could have done something else that would have saved their marriage. In reality, there was nothing she could have done differently that would have saved their relationship."
"A recent survey indicates that nearly half, 48 percent of women and a similar percentage of men, experience emotional abuse or coercive control in intimate relationships during their lifetime."
"When we overcome domestic abuse, our mindset moves from victim to victorious. God moves in us, strengthens us, and matures us, and we become fearless."
"Domestic abuse encompasses a range of actions and attitudes, including emotional and verbal, financial, physical, sexual, and spiritual abuse."
Next Steps…
If you would like more information on AbuseCare, scheduling a presentation or workshop, one-on-one coaching, one-on-one divorce coaching, or our Bible studies and support groups, contact us now at 847-624-1511 or drop us an email at [email protected].